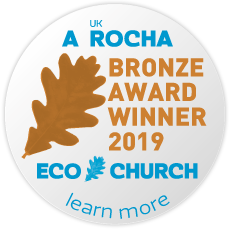 At St John's we have been working towards getting Eco Church accreditation, and we are delighted to announce we have been awarded the Eco Church bronze award.
Eco Church is a Christian charity run by A Rocha UK, who work for the protection and restoration of the natural world and are committed to mobilising Christians and churches in the UK to care for the environment.
The fifth mark of mission of the Anglican Communion commits us "To strive to safeguard the integrity of creation and to sustain and renew the life of the earth." Here at St John's we are trying to do our bit and we hope the parish will be inspired to do their bit too.
To qualify for the award we carried out the Eco Church survey, which takes you through five key areas of church life: Worship and teaching, Management of church buildings, Management of church land, Community and global engagement, and Lifestyle. Once we carried out the survey, we looked at areas in which we could easily improve our eco credentials, some of which were happening anyway. Things that improved our eco score were putting up bat and bird boxes in the meadow, making sure we used recycled paper products, alerting clergy and intercessors to the importance of preaching and praying about environmental issues, and setting up a social media campaign to raise awareness amongst the congregation.
We will strive to make further changes and eventually qualify for a silver award. Some of the areas we shall be looking into are the cost implications of switching to a green energy supplier, replacing any spent lightbulbs with low energy ones, making sure all our cleaning products are eco-friendly, and raising awareness in the congregation to the things they can do at home or work to help the environment. Do look out for the changes we are and could be doing, and if you want to know more please contact Sara ([email protected]).
A prayer by Ray Simpson (from Prayers of Creation, Kevin Mayhew)
Creator, make us co-workers with you,
that the earth and all who live upon it
may reap a full harvest.
Show us how to reflect your rhythms
in our life and work
and to conserve the world's rich resources.
Help us to give all creatures their due respect,
to tend cattle and crops with care.
Guide science along wise and considerate ways,
that we may fashion agriculture that truly enhances,
and that we may sustain a vibrant environment.